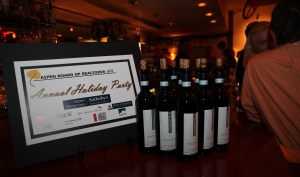 The ABOR Annual Holiday Party photos have arrived and are ready to download.  Just click on the picture to view the Annual Holiday Party or Photos with Santa. Enjoy!
Annual Holiday Party
Photos with Santa
The Aspen Board of REALTORS® has over 650 members and represents over 175 real estate offices. We strive to establish and maintain high standards of integrity, honor and character among our members, protect the public's right to buy, own and transfer real property and promote better public understanding of the profession and the real estate transaction process. REALTORS® are licensed real estate practitioners who maintain memberships in a local association of REALTORS®, a state association of REALTORS® and the National Association of REALTORS®. As members of these organizations, they are pledged to abide by a strict code of professional conduct. They also have access to a wide variety of business services that are not available to non-REALTORS®. This gives them a competitive edge in the marketplace, enabling them to provide superior services to buyers and sellers of real property.